Flu shots boost your chances of staying well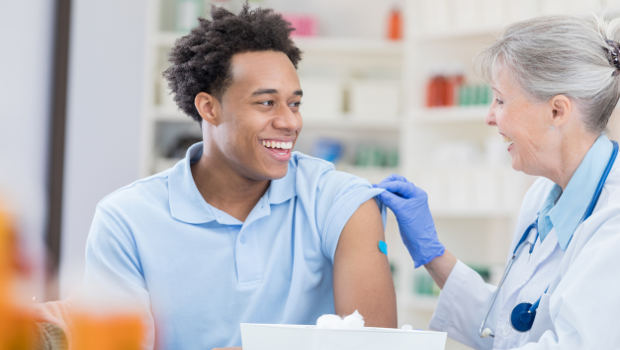 While flu vaccine effectiveness varies year to year, it still makes sense to get immunized annually
Want to stay as healthy as possible this coming flu season? Kaiser Permanente and the Centers for Disease Control and Prevention recommend that everyone 6 months and older get a flu shot.
Flu vaccination is especially important for people at high risk of getting seriously ill from the flu. This includes children, pregnant women, adults over age 50, and those with chronic conditions. Caregivers for high-risk individuals are also in this group.
Once you get your vaccine, it takes about two weeks for it to begin protecting you and lasts until it's time for a vaccination next fall.
The effectiveness of flu vaccine varies year to year, depending on how well each year's formulation matches the viruses that are spreading at the time. Research teams around the world—including those at Kaiser Permanente Washington Health Research Institute (KPWHRI)—keep tabs on the types of influenza circulating and how well the vaccines being used are fighting back. But even when the match is imperfect, physicians and vaccine researchers still recommend getting a shot.
"Your chances of staying well are better with the vaccine than without it," says Michael Jackson, PhD, MPH, the associate investigator at KPWHRI who leads our flu surveillance effort.
Kaiser Permanente and the CDC no longer recommend the nasal spray form of flu vaccine any more because of concerns about effectiveness. It's best to get the shot.
So here's the bottom line for staying healthy this flu season:
Anyone who has not received the flu vaccine this season should get vaccinated as soon as possible.
Wash your hands often.
Use alcohol-based hand sanitizers.
Cover your mouth with a tissue when you cough or sneeze, and throw the tissue into the trash after you use it. Or cough into your elbow (not your hands).
Avoid touching your eyes, nose, or mouth. Germs are spread that way.
Avoid close contact with people who show symptoms of cold or flu.
People who do get sick should stay home to avoid spreading the virus to others.
For more information, see Kaiser Permanente's web page on flu vaccination.

by Joan DeClaire