Cara Lewis brings mental health implementation expertise to GHRI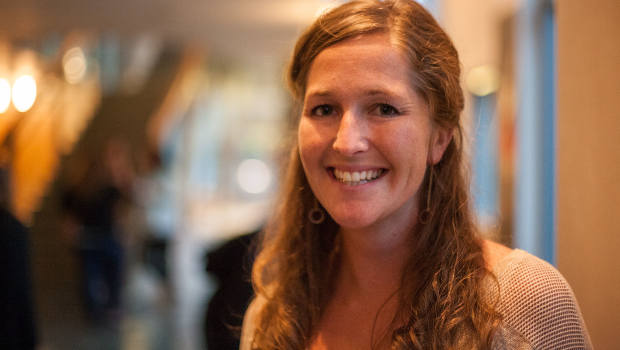 Dr. Cara C. Lewis. Photo by Indiana University.
Dr. Lewis joins the MacColl Center to work on making community mental health care more effective, efficient, and accessible.
Cara Lewis, PhD, is used to having a busy schedule, but her days are about to become even more full. In June, Dr. Lewis moved from Indiana University to Seattle to become a Group Health Research Institute (GHRI) associate investigator. She leads several multisite research projects. As president of the National Institute of Mental Health-funded Society for Implementation Research Collaboration (SIRC) and co-director of its conference series, she is planning a 2017 meeting for 300 people. And this month, Dr. Lewis and her husband Eric are expecting their first baby.
Dr. Lewis came to GHRI to work in the MacColl Center for Health Care Innovation, where her focus is dissemination and implementation science. "This just means I try to find the best ways to use what we learn from health care studies to change clinical practice for the better," Dr. Lewis says.
For example, since her specialty is mental and behavioral health, one of Dr. Lewis' current projects is studying implementation of measurement-based depression care. This approach is similar to regularly checking the blood glucose of patients with diabetes or the blood pressure of people with hypertension to see if their chronic condition is under control. The mental health version of these checkups is asking patients a standardized set of simple, validated questions about depression symptoms at every clinic visit. The patients' answers direct their course of treatment. Dr. Lewis also studies ways to rigorously measure efforts to make behavioral health care changes.
Dr. Lewis is now talking with her new MacColl Center colleagues about studies she could initiate at GHRI. Some ideas include evaluating a large-scale Zero Suicide rollout, adding an implementation science component to ongoing MacColl Center projects, and creating an implementation science advanced center in collaboration with colleagues at GHRI and the University of Washington. However, the next big project she will launch is the new addition to the family. "A lot of exciting changes are happening right now," says Dr. Lewis. "It's so wonderful to feel settled in and so supported at GHRI prior to our son's arrival. I couldn't imagine being in a better position than I am now."
Dr. Lewis is the first of four new GHRI investigators to arrive in 2016. Watch for posts on other new researchers and follow Dr. Lewis on Twitter at @CaraCLewis.