Don't wait: Dr. Leana Wen urges public health action now
: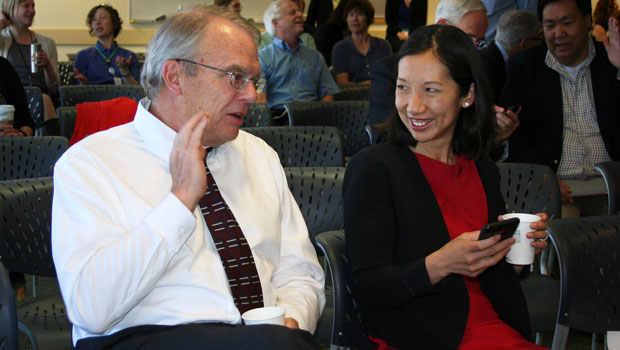 Drs. Leana Wen and Eric B. Larson at Group Health Research Institute, June 27, 2016.
Dr. Paula Lozano shares inspirational moments from Dr. Leana Wen's visit to Group Health. See short videos of Dr. Wen, with her full talk to come.
by Group Health Physician, Group Health Associate Medical Director for Research and Translation, and Group Health Research Institute Senior Investigator Paula Lozano, MD, MPH
I got a public health recharge this week, when Baltimore City Health Commissioner Dr. Leana Wen visited Group Health. On Monday, Dr. Wen gave the keynote address at our 17th annual Hilde and Bill Birnbaum Lecture. Later, she talked with Group Health leaders, clinicians, and scientists at an informal symposium at GHRI. Dr. Wen called on all of us to connect with people in our communities, ask about their greatest social concerns, and act without hesitation to address them. Throughout the day, I was struck by how closely Dr. Wen's mission and priorities align with Group Health's.
I want to share a few points from Dr. Wen's visit that especially inspired me. A full video of her talk will be available soon at this website but links to a few short clips are below.
Listen, speak out, act
Dr. Wen asserts that health is integral to every sector of our lives. She is right in saying that we often think of health in terms of health, but everything affects our health: our homes, neighborhoods, schools, and jobs. Watch Dr. Wen on disparities. The challenge of improving health seems daunting in the face of these many intertwining factors. From this perspective, people can feel powerless to enact change. But we're not.
Dr. Wen said that as a clinician, she and her colleagues never give up on a patient just because he or she has numerous, complicated health issues. So why would it be acceptable to give up on public health problems just because they are numerous and complicated? Watch Dr. Wen on overcoming helplessness.
Dr. Wen's strategy for taking action starts with listening. Patients and community members express what they need in their actions and words. Those needs might or might not be what clinicians, health care system leaders, or researchers expect. Watch Dr. Wen on denying opportunities.
To illustrate this point, Dr. Wen used the example of a meeting she had with Baltimore teens. She came in with her own adolescent health agenda and was prepared to talk about drugs, smoking, and sexually transmitted diseases. Instead, they ended up talking about mental health issues, specifically the trauma of being poor, unjustly arrested, or living with addiction.
Dr. Wen also talked about wanting to tell families to exercise and eat healthy food, but realizing that first, they need safe places for children to play and stores nearby that sell fruits and vegetables. Watch Dr. Wen on the opposite of poverty.
Next, Dr. Wen advocates for speaking out, taking risks, and talking about the social determinants of health that you are passionate about. Violence, racism, discrimination, poverty, injustice—these are all public health issues, and we have to speak out against them, putting ourselves and our reputations on the line if necessary.
Finally, Dr. Wen urges us not to wait. Act now. Our public health challenges are urgent and our process to address them is slow, she says. Ask yourself what you can do right now to improve social determinants of health in your community. If solutions at the national level are too slow, work at the state, city, or community level, or at your own organization or business. Think about what the people you serve need right now and do what you can to meet those needs.
Inspiration from a Baltimore example
I'm a pediatrician, so of the many examples Dr. Wen shared about how Baltimore is dealing with social and public health crises, I responded especially strongly to B'more for Healthy Babies. As Dr. Wen explained in her Birnbaum talk, in 2009, the infant mortality rate in Baltimore resembled countries in civil war. Disparities were heartbreaking: African-American babies were five times more likely to die than white babies.
It would be easy to assume that the solution was more resources. In this case, though, the main problem was a lack of coordination among organizations already providing maternal and infant services. By creating a coalition of these organizations and developing a triage system to refer mothers and babies to the resources that best meet their needs, Baltimore reduced infant mortality by 28 percent and disparities by 40 percent. Watch Dr. Wen on B'more for Healthy Babies.
I'll continue to reflect on Dr. Wen's advice as I see patients in clinic, direct my research projects, and work with colleagues to guide research translation at Group Health. I'll be looking for ways that Dr. Wen's observations about Group Health and GHRI can drive us to take specific actions. For now, I'm inspired to listen, speak out, and act on behalf of our community here in Seattle. Watch Dr. Wen's call to action.