"We've got the intervention down, but we often miss the hook." That's what the Centers for Disease Control and Prevention (CDC) expert told a crowded auditorium in Atlanta last month—and I couldn't have agreed more.
From preventing obesity to quitting smoking to safe sex, finding the best way to grab your audience is a key public health challenge, explained Katherine Lyon Daniel, PhD, CDC's associate director for communication. Our knowledge may be abundant, our evidence often clear—but when we can't engage real people in health messages, an intervention's effectiveness will be limited.
It's a pitfall that many of the "public healthies" in the audience know intimately. And it's the reason I'd come to the National Conference on Health Communication, Marketing, and Media: to learn more about the communication strategies that health professionals are using to make their messages more engaging and effective.
Coordinated in part by the CDC, the annual three-day conference brings together public health researchers—and leading experts in marketing trends, social media, and health communication—from around the world. From graphic novels, to laugh-out-loud commercials, to sophisticated avatars, many of them are pushing the health communication envelope. (Want to track your sense of purpose and degree of mindfulness each day—and see how it affects your health? There will soon be an app for that…and it stars a dung beetle.)
The conference showcased health care communication efforts I could never have imagined. I had the chance to attend the meeting and present a poster describing communications work on a Group Health study related to childhood immunization. Compared to the creative thinking behind the dung beetle app, our approach was modest. But it's a step that more and more Group Health Research Institute (GHRI) study teams are embracing.
Our poster described behind-the-scenes communications work on the Group Health Foundation-funded "Let's Talk Vaccines" study, led by GHRI Senior Investigator and Group Health Pediatrician David Grossman, MD, MPH, and GHRI Research Associate Nora Henrikson, PhD (see 2011 feature story). A key component of the study's intervention is a toolkit to boost pediatric providers' confidence in tough conversations with parents who choose to delay or skip their children's recommended immunizations. Working with GHRI's Enhanced Art, Graphics, Literacy, and Editorial Strategies (EAGLES) group, Dr. Grossman's team created a messaging brand to help start non-confrontational discussions between providers and vaccine-hesitant parents.
"We came to the EAGLES for creative strategies to help engage pediatric providers in the toolkit and encourage them to use it," Dr. Henrikson explained. "Ideally, we also wanted a hook that providers could use to spark effective conversations with vaccine-hesitant parents."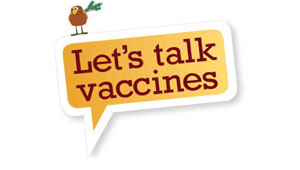 The result was the "Let's Talk Vaccines" logo-tagline, paired with illustrations of birds "chatting" to portray respectful, two-way dialogue. Several branded giveaway items for providers—a clipboard, coffee mug, button, and notepad—serve as icebreakers to help initiate conversation during office visits. A branded handout for parents lists reliable sources of vaccine information, with links to blogs, Facebook, and Twitter—and a QR code for mobile downloading.
Analyses of the study's primary outcomes—parental vaccine hesitancy and provider self-efficacy in addressing hesitancy—will happen in 2014. Participating providers have responded positively: On a scale of 1 ("poor") to 7 ("excellent"), 96 percent of providers who completed an evaluation at the initial intervention training rated the quality of the toolkit at 6 or 7. Many also noted that the giveaway items would be useful at the point of care. "The buttons are great conversation starters," some commented.
For most health messages, support to jump-start the conversation is crucial. With the rise of social media, many Americans are becoming less tolerant of health messaging, according the conference's keynote speaker, Katie Delahaye Paine, CEO and senior consultant at Paine Publishing.
"When you're exposed to 6,000 messages a day," she explained, "you hear only the ones that appeal to you immediately."
The take-home message for me? We must find new ways to create those immediate appeals efficiently and effectively.
Closing the conference, Dr. Lyon Daniel shared sound bites and tweets from speakers and participants that summarized the challenge poignantly: "Be data informed, not data driven," she read. "It's imperative to make time and space for creativity. File away the fact sheets. We have to touch what people live for: their dreams!"
by Jessica Ridpath