Clinical fellows launch 6 projects to reduce medical overuse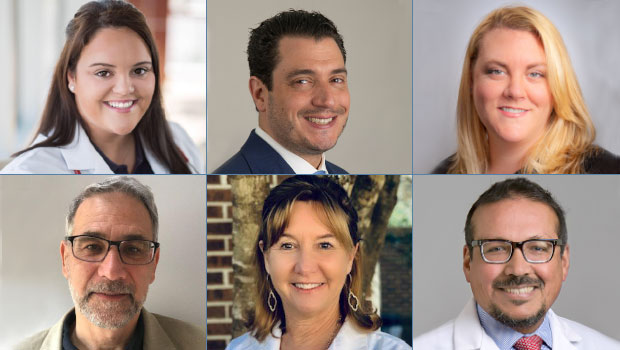 Top row from left: Elizabeth Vossenkemper, MSN, RN, CPNP-PC, of Tri-Cities Community Health in Pasco, WA; Joshua Moskovitz, MD, MPH, MBA, of NYC Health + Hospitals Jacobi Medical Center; Leslie Dunlap, MSPAS, PA-C, of the University of New Mexico Hospital. Bottom row from left: George Hoke, MD, of the University of Virginia Health System; Lauren D. Demosthenes, MD, of the University of South Carolina at Greenville; Roberto Diaz Del Carpio, MD, MPH, of the Jacobs School of Medicine and Biomedical Sciences in Buffalo.
A new program aims to reduce unnecessary care for vulnerable patients such as back pain imaging, opioid use, and more
Six new projects that aim to reduce medical overuse in safety net settings have launched this fall as part of the inaugural Robert Wood Johnson Foundation Clinical Value Champions Fellowship training program, led by the MacColl Center for Health Care Innovation at Kaiser Permanente Washington Health Research Institute.
The training program aims to develop a cadre of clinical champions who can help their colleagues do less of what harms and more of what helps vulnerable patients. It seeks to teach fellows to identify ways to decrease unnecessary prescriptions, diagnostic imaging, and other unnecessary procedures and practices.
"There's a huge need for this type of training and support as reducing overuse requires innovative approaches to what were once standard ways of delivering care," said Michael Parchman, MD, MPH, who is a MacColl Center senior investigator and principal investigator of the Taking Action on Overuse Project, which provides the basis for the fellowship curriculum and training material. "The fellowship is empowering these clinicians to become change agents."
The six fellows, known as "Value Champions," include four physicians, a nurse practitioner, and a physician's assistant from safety net hospitals and clinics across the country that serve medically vulnerable patients. They zeroed in on projects to improve care in their home institutions after a workshop in Seattle earlier this year in which they learned more about the Taking Action Against Overuse framework, which serves as a roadmap for action and behavior change to reduce medical overuse. Fellows also attend bi-monthly learning sessions and each is assigned a faculty mentor for one-on-one support.
The six projects are: