Primary care patients say 'it's important to ask' about suicidal thoughts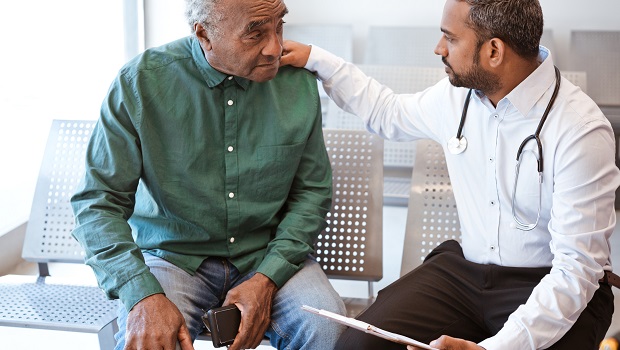 Study participants balanced fear and vulnerability with hope of getting help, Dr. Julie Richards found.
SEATTLE, July 25, 2019—When primary care patients were asked about suicidal thoughts after screening positive for depression symptoms, they thought these questions were appropriate. This finding is from a new study from Kaiser Permanente Washington Health Research Institute (KPWHRI) and Kaiser Permanente Washington.
The study, "If You Listen, I Will Talk: The Experience of Being Asked about Suicidality during Routine Primary Care," was published in the Journal of General Internal Medicine.
Some study participants who disclosed suicidal thoughts said they balanced the hope of receiving help with fear about being stigmatized, feeling vulnerable, and losing autonomy, said project leader Julie Richards, MPH, a KPWHRI research associate and the study's lead author. Patients said they were more comfortable reporting their suicidality when they thought their health care providers would use the information to help them.
Coauthors include Rebecca Parrish, LICSW, and Ryan Caldeiro, MD, from Kaiser Permanente Washington's Behavioral Health Support Services and collaborators from the University of Washington, NowMattersNow.org, and Veterans Affairs Puget Sound Health Care.
What patients experience during suicidality screening
As health systems, including Kaiser Permanente Washington, integrate mental health services into primary care, routine screening for depression is becoming common. Clinical assessments of depression symptoms often include questions about suicidal thoughts. Patient perceptions about these questions may influence how they answer, which in turn affects clinicians' ability to identify and help people at risk of suicide attempt.
For her qualitative study, Ms. Richards recruited Kaiser Permanente Washington patients who had recently completed the nine-question Patient Health Questionnaire (PHQ-9) at a primary care visit. To learn about patient experiences with answering PHQ-9 questions, Ms. Richards and the research team conducted telephone interviews with 37 patients who agreed to be in the study.
"Our analysis of the interview transcripts," Ms. Richards said, "identified four main themes in the patients' answers. First, they all believed being asked about suicidality was appropriate and sometimes valuable for their health."
Another theme was that some patients felt a mismatch between their lived experience and the question that asked about the frequency of suicidal thoughts. The third theme was that patients weighed disclosing suicidal thoughts against fears of negative consequences. Finally, patients stated that long-term trusting relationships with providers and actions that indicated listening and caring such as sitting and talking face-to-face encouraged discussions about suicidality.
Patient voices
Evidence supporting the themes the research team identified included this patient comment about the PHQ-9 question about suicidal thoughts: "I think it's important to ask…You don't want to have these thoughts. Yet you have them." Another patient acknowledged the vulnerability in answering the question by saying, "So, it's always uncomfortable because it's letting somebody that you don't know into probably the deepest secrets you have."
Some patients felt that the self-harm questions did not fit their experience. One said, for example, "That question isn't applicable because I'm not suicidal… my feeling is like running away or wanting to abandon all my problems." Another said, "That's not TRULY how I feel."
Study participants expressed concerns that disclosing suicidal thoughts would result in judgment from friends, family, and coworkers who might think, "You're a person with that kind of problem, a mental health issue." Others worried about loss of autonomy, "being locked up in a white padded room."
Patients with long-standing relationships with their health care providers felt they could answer questions about thoughts of self-harm honestly. One said, "My health provider, she can ask anything she wants to…she has really known me long enough…They're part of my entire family."
Reassuring patients
Based on results that emerged from the analysis, Ms. Richards said, the team concluded that future research should identify ways to help patients feel less stigma when disclosing suicidal thoughts. Health care providers and staff will play an important role in this strategy.
"Primary care practices that are considering routine depression screening and symptoms assessment should consider ways to make it easier to disclose suicidal thoughts," she said. "Patients need to know that providers will use the information to facilitate conversations about the support and care they may need."
Study coauthors were Evette J. Ludman, PhD, David Grossman, MD, MPH, Greg Simon, MD, MPH, Susan Shortreed, PhD, Amy K. Lee, MPH, Mary Shea, MA, Rob Penfold, PhD, of KPWHRI; Emily C. Williams, PhD, MPH, Veterans Affairs and a KPWHRI affiliate researcher; Sarah Hohl, MPH, University of Washington; and Ursula Whiteside, PhD, NowMattersNow.org. Funding for the study was from the Kaiser Permanente Washington Health Research Institute Development Fund.
About Kaiser Permanente Washington Health Research Institute
Kaiser Permanente Washington Health Research Institute (KPWHRI) improves the health and health care of Kaiser Permanente members and the public. The Institute has conducted nonproprietary public-interest research on preventing, diagnosing, and treating major health problems since 1983. Government and private research grants provide our main funding. Follow KPWHRI research on Twitter, Facebook, LinkedIn, or YouTube. For more information, go to: www.kpwashingtonresearch.org.
About Kaiser Permanente
Kaiser Permanente is committed to helping shape the future of health care. We are recognized as one of America's leading health care providers and not-for-profit health plans. Founded in 1945, Kaiser Permanente has a mission to provide high-quality, affordable health care services and to improve the health of our members and the communities we serve. We currently serve more than 12.2 million members in eight states and the District of Columbia. Care for members and patients is focused on their total health and guided by their personal Permanente Medical Group physicians, specialists and team of caregivers. Our expert and caring medical teams are empowered and supported by industry-leading technology advances and tools for health promotion, disease prevention, state-of-the-art care delivery and world-class chronic disease management. Kaiser Permanente is dedicated to care innovations, clinical research, health education and the support of community health. For more information, go to: kp.org/share.