Dr. Henrikson's Annals of Internal Medicine study describes 3 kinds of cost concerns that can affect cancer care.
Nora Henrikson, PhD, is an assistant investigator at Kaiser Permanente Washington Health Research Institute (KPWHRI). Dr. Henrikson was trained in sociology, health behavior, health education, and public health genetics. Early moments propel her passion to explore how policy and culture influence patients' experiences of clinical care—and to improve cost transparency. She is also an affiliate assistant professor of health services at the University of Washington School of Public Health.
What motivated your interest in the cost of care?
I started my career directing a patient education and support program at a cancer center. I saw firsthand our patients' financial distress. Those patients still motivate my commitment to make health care affordable for everyone—and drive me to try to help patients who are going through hard times.
What's your newest study on the cost of care?
It's about finding effective ways for clinical teams to discuss cost with cancer patients. At Kaiser Permanente Washington and Northwest, with Robert Wood Johnson Foundation funding, we explored how we can help clinical teams to do that. Annals of Internal Medicine just published the study, titled "Clinical Workflow Requirements for Cost-of-Care Conversations: Human-Centered Design Study." It outlines 3 scenarios to build into clinical workflows:
Some patients have cost questions that might affect their decision making about treatments.
Others just want to anticipate their costs throughout the course of treatment.
And some start out in financial distress and need referral to services.
We found patients didn't mind having their cost concerns noted in their electronic health record. And they supported a team-based approach, with doctors having a relatively limited role in cost conversations. Next, we hope to test whether this model helps teams integrate cost conversations into the clinical workflow—and helps patients achieve better financial outcomes.
---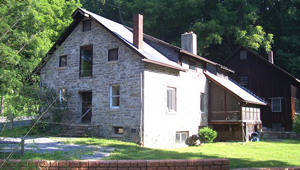 Dr. Henrikson's childhood home.
---
Did any other pivotal moments inspire your work?
In college, I had some minor health issues, and I realized that any illness dominates your life for that time. And so many people have chronic diseases, which deeply affect their whole lives for years. Also in college, I interned at a women's correctional facility, and I did a qualitative study with the inmates describing their experiences with health care.
When I was a child, my parents converted a condemned 1762 building in rural Pennsylvania into our family home, doing the work themselves while they were in graduate school. That told me that when we work together, we can all do things that may seem crazy or impossible—and make the world a better place. In college, I decided I wanted to help improve health care and promote health, by working in behavioral social science within the health care setting. I'd already fallen in love with sociology: It's such a relevant discipline, studying how we all work together in society. And health became so compelling to me: It's where all of life happens, from good beginnings to dignified endings—and everything in between.
What makes Kaiser Permanente a good place to do your work?
Kaiser Permanente occupies a rare niche within U.S. health care, integrating care, coverage, and research. I especially appreciate our shared commitment to equal access to high-quality health care for everyone—and addressing the social factors that affect health.                                                                                                                        
Also at Kaiser Permanente Washington, I'm able to do systems work, such as my just-launched study of how to improve cascade testing of relatives of people with known genetic variants that increase breast, ovarian, or colorectal cancer risk. We don't do a good job of this now in the United States, and an environment like Kaiser Permanente allows me to work closely with clinical partners to explore new approaches.
I also get to work closely with Kaiser Permanente researchers at other regions. I serve as the KPWHRI site principal investigator for the Kaiser Permanente Research Affiliates Evidence-based Practice Center (EPC), headquartered at Kaiser Permanente Northwest. I enjoy the intellectual stimulation of systematic reviews, and I appreciate their social and policy relevance.  I also am fortunate to work with Kaiser Permanente Washington's Learning Health System program.
What keeps you going?
Most weekends you can find me cheering on the sidelines at my children's basketball, volleyball, soccer, or ultimate frisbee games or hiking and camping in summer. I like to cook and spend time with friends. I'm an avid audiobook listener, in the car and while exercising (last memorable listen: The Women in the Castle by Jessica Shattuck). Exercise is also a great stress relief—and it helps me to think more clearly.