The HCSRN conference is a venue for collaborative work to improve health and health care
The annual conference of the Health Care Systems Research Network (HCSRN) took place February 21 to 23 in Denver, Colorado. Researchers from Kaiser Permanente Washington Health Research Institute (KPWHRI) attend the conference every year to connect with colleagues and present findings. More than 2,000 scientists and research staff belong to HCSRN, which brings together research centers embedded in health care organizations across the country.
KPWHRI is a founding member of the network and helped to establish the Virtual Data Warehouse, a common data model that standardizes electronic health data to allow research collaboration across multiple sites. The data warehouse supports HCSRN's mission to improve health by doing research that connects the capabilities and resources of learning health care systems, and is used as a model by other data initiatives, including the U.S. Food and Drug Administration Sentinel System. Researchers at KPWHRI are also involved in many projects that are part of HCSRN, including the Mental Health Research Network and the National Patient-Centered Clinical Research Network (PCORnet).
This year's conference theme was "Leveraging the Power of the Network in Rapidly Changing Times." Our researchers participated in multiple panels and presentations.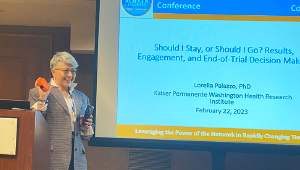 Lorella Palazzo, PhD, presented results from a conversation with 6 principal investigators of active pragmatic clinical trials about end-of-trial decision-making, specifically whether to continue study interventions during the gap between the end of a trial and the time when results are available. Researchers identified issues to consider when making the decision. After analyzing the meeting notes, they found that 6 different aspects emerged: Ethical, Relational/Political, Timing, Intervention-specific, Resources, and Trial Design.
The researchers recommended that investigators keep these aspects in mind during trial planning. They also suggested a list of some key questions for investigators to consider
How could maintaining or discontinuing intervention activities affect clinical care?
How important is engagement with health system partners while awaiting results?
How soon could investigators assess intervention outcomes?
To what degree have clinical staff adopted the intervention?
What resources are required to maintain intervention activities?
Have intervention practices been confined to only some patients or clinical settings, or spread?
Sharon Fuller, a member of KPWHRI's data programming team, presented findings on linking maternal and infant data in the U.S. Center for Disease Control's Vaccine Safety Datalink Project (VSD), which was established to monitor the safety of vaccines and study rare or serious events following immunization. Linking maternal and infant data is important for studies looking at vaccine safety during pregnancy.
The study team developed an algorithm to create links between maternal and infant health records that does not rely on birth certificates. Birth certificates can be time-intensive to obtain and often have a time lag, and they require a lot of cleaning of the data. Instead, the researchers used information such as care management and subscriber data and name-address matching. They were able to link 91% of deliveries with infants in a 2015-2021 data file without using birth certificates, and better identified duplicate files, twins, and delivery dates. The new method will allow the VSD to have more timely data for vaccine studies.
John Weeks, a member of the Research Data Warehouse team, presented on systematic management of medical codes and terminology in the Virtual Data Warehouse. His team developed a data model to help manage challenges of standard medical coding, which may vary across organizations and is not always intuitive to associate with clinical terminology. The model makes research preparation smoother and more efficient, and has also made it easier to generate changes required by other common data models. It is available for use by other HCSRN sites.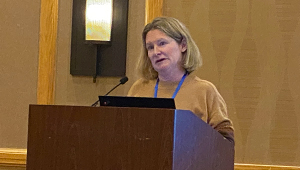 Julie Richards, PhD, MPH, spoke about a cluster-randomized implementation evaluation looking at the effectiveness of integrating mental health in primary care for suicide prevention. The project focused on an integrated mental health program implemented at Kaiser Permanente Washington clinics that used 3 different strategies: practice coaching, electronic health record decision support, and performance monitoring and feedback. The researchers found that the program was effective for increasing rates of suicide risk mitigation practices (safety planning) and decreasing rates of suicide attempts in the 90 days following primary care visits.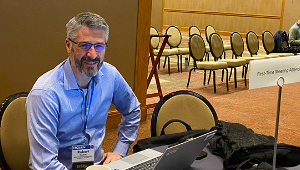 Robert Penfold, PhD, joined researchers from other Kaiser Permanente research centers on a panel, presenting work he led on assessing telehealth services in mental health and wellness encounters.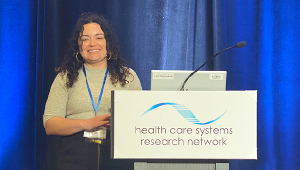 Meagan Brown, PhD, MPH, co-led a panel discussion on building capacity for social health in primary care, sharing results on the co-development, implementation, and evaluation of an online training model for primary care providers. This new training was developed by Kaiser Permanente's Social Needs Network for Evaluation and Translation (SONNET), a national network whose coordinating center is at KPWHRI. The panel also included SONNET team members Dea Papajorgji-Taylor, MPH, MA, from Kaiser Permanente Center for Health Research, and Elizabeth Bojkov, a University of Washington student who worked with KPWHRI for a practicum as part of her degree and contributed to the project.
There were also several other presentations from Kaiser Permanente researchers leading SONNET projects.
Maile Tauali'i, PhD, MPH, from the Kaiser Permanente Center for Integrated Health Care Research, presented on understanding preferences to share social needs.
Morgan Clennin, PhD, MPH, from the Kaiser Permanente Institute for Health Research, presented results from a study on the association of social risk factors with emergency department and inpatient hospitalization before and during the COVID-19 pandemic.
Rachel Zucker, MPH, PMP, from the Kaiser Permanente Institute for Health Research, presented on the reach and effectiveness of an initiative to screen and refer patients for social needs.
Other KPWHRI presenters included Ladia Albertson-Junkans and Nora Henrikson, PhD, MPH.
Abstracts from the conference will be published in the Journal of Patient-Centered Research and Reviews.
By Amelia Apfel