This Breast Cancer Awareness Month, Dr. Karen Wernli reflects on her cancer research, centered on patients and access.
Karen Wernli, PhD, is an associate investigator at Kaiser Permanente Washington Health Research Institute in Seattle. Dr. Wernli considers patients at the core of her research. Her work incorporates outcomes important to patients, to improve cancer care, from prevention to survivorship, including in breast cancer detection. She is also an affiliate associate professor of health services and epidemiology at the University of Washington. Read about Kaiser Permanente's recent research on breast cancer.
What motivated you to become a research scientist and study breast cancer?
When I was 10, I burned my leg on the side of my brother's motorcycle. My parents didn't have health insurance then, so we treated it at home, and I couldn't go to school for two weeks. That event led me to care deeply about helping to improve people's health, including understanding how to help people when they are sick—and increase everyone's access to health care. That's why I've worked to make breast cancer screening as accessible, effective, and safe as possible, particularly for women already diagnosed with breast cancer. And I want to focus more on women who don't get screened regularly—and how we can support them and connect them with care.
---


On a ferry on Puget Sound, Dr. Wernli with her colleagues Leah Tuzzio, MPH; Kelly Ehrlich, MS; Lorella Palazzo, PhD; and Melissa Anderson, MS (L-R) with Sarah Brush, above.
---
How have your interests evolved?
Throughout college, I worked for epidemiologists and got to see how they think about population health and how they conceive of scientific questions and answer them. That clicked in my brain as aligned with how I see the world. Later, I pursued a master's degree and a fellowship at the MD Anderson Cancer Center, where I saw cancer's impact on people's everyday lives and decisions. Since then I've focused entirely on cancer. As a project manager and doctoral student at the Fred Hutchinson Cancer Research Center in Seattle—and in China!—I looked at occupational risk factors for cancer in women who'd worked in the Shanghai Textile Industry Bureau. But the primary purpose of that study evaluated whether teaching women to examine their own breasts reduced breast cancer mortality. The results showed that with breast self-exam, women found more lumps earlier—but not breast cancers. And there was no difference in breast cancer mortality compared to women who did not do breast self-exam. These results contributed to no longer teaching women around the world to do routine, monthly breast self-exam, and it was my first chance to understand the role of cancer screening.
Why is Kaiser Permanente a good home for your research?
I get to hear what's important to Kaiser Permanente patients and clinicians—and then translate the concerns that matter to both into questions that I can answer. I really appreciate working with a multidisciplinary group of colleagues here to consider the whole patient. Instead of merely looking at risk factors for disease, I can think more globally about the person in a process from cancer screening to detection and eventually to survivorship care. I can think about patients within a health care system, affected by bigger societal issues. I can find the right data to answer important research questions: sometimes locally, and sometimes needing bigger national data sources—but always relevant to caring for Kaiser Permanente patients. I'm in a position of privilege, where I can see health issues affecting Kaiser Permanente patients—and even my own family—that I now can try to answer. For instance, after my sister-in-law died from cancer, I started the Clare Project in her honor to learn more about what teens and young adults with advanced-stage cancer need and want. I've evaluated national data to assess trends in their end-of-life care, which hadn't been studied before.
---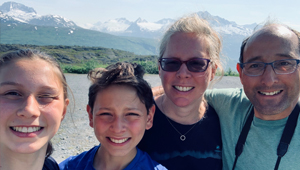 Dr. Wernli and her family on vacation in Alaska.
---
Tell us more about your innovative work with patients.
Thanks to the Patient-Centered Outcomes Research Institute (PCORI), which funded my largest study, I worked alongside two patient partners who greatly helped us understand breast cancer because they asked questions that were relevant for patients and helped to interpret our results from the patient perspective. The patient point of view is important because it provides insight into patients' day-to-day challenges. To do that, I need to know what matters most to them and keep that front and center throughout the research process. Through the Breast Cancer Surveillance Consortium team, which has set the national standard for breast imaging, my PCORI-funded project found that supplementing yearly mammograms with breast MRI led to unneeded biopsies in breast cancer survivors. We had shown in previous research that in practice, breast MRI is being used to screen a growing number of women who have had breast cancer—often between yearly mammograms. But more testing isn't always better. The extra screening is not necessarily an improvement over what would have been detected in usual care with mammography. I continue emphasizing patient engagement in new projects, including giving women information about breast density and their personal risk of breast cancer—and encouraging screening for lung cancer.
What do you like to do for fun?
I love watching my daughter dance and my son play soccer. I commute to work by bicycle in the summer, and this spring I ran my first half-marathon. Thanks to my Swiss husband, who grew up hiking in the Alps, our family loves hiking in the mountains near Seattle. When I feel stressed out or I'm trying to solve a complex research challenge, I imagine the tundra-like terrain of the Burroughs Mountains Trail, where you see a part of Mount Rainier that's otherwise inaccessible. We hike it together yearly, and each time it looks different. Being in nature is a way to fill your soul: the smell of the trees, the way the wind feels, the birdsong, hearing an owl hoot in midday. I think long hikes are a great way to learn persistence: to keep going all the way to the end, despite wanting to give up. It's a great metaphor for what is often required to achieve success in research.