5 questions with an influenza and COVID-19 epidemiologist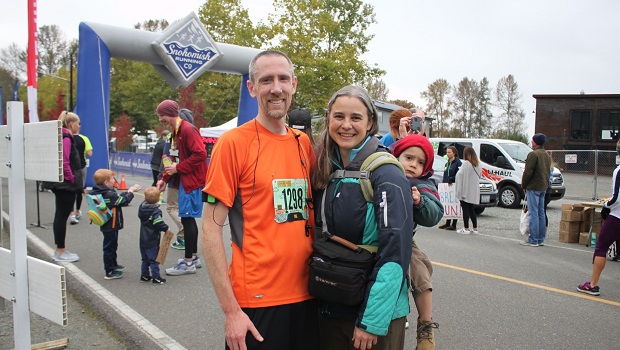 Dr. Michael Jackson with his wife and son after running the Snohomish River Run half marathon in October 2019.
Dr. Mike Jackson has long studied spread of flu and effectiveness of vaccination at Kaiser Permanente Washington. And now… of COVID-19 too.
A "disease detective" alum of the Centers for Disease Control and Prevention (CDC)'s famed Epidemic Intelligence Service, Mike L. Jackson, PhD, applies his skills to understand how infectious diseases spread—and how vaccination programs can interrupt that spread. He is an associate investigator at Kaiser Permanente Washington Health Research Institute (KPWHRI) and affiliate assistant professor of epidemiology at the University of Washington.
What motivates you to do your work?
Living out service to God is what matters most to me. I've always wanted to help people as much as possible. One way to do that is public health research, because it has the potential to improve so many people's lives.
Which moments in your life steered your path?
After college I considered going into medicine and I served on a Mercy Ship in Guinea for half a year. I got to watch the surgeons at work, and that quickly convinced me not to become a surgeon. But while in port, the Mercy Ship conducted several outreach activities. The one that caught my attention was community health education, teaching nurses and health workers from remote villages about basic sanitation and first aid: for instance, using soap instead of animal dung to treat cuts and burns. I realized that public health had enormous potential to improve lives at the population level.
Then I read The Great Influenza: The Story of the Deadliest Pandemic in History, by John M. Barry, about the 1918 "Spanish" flu. I was hooked. Learning about that pandemic inspired me to become involved in preventing infectious diseases and in epidemic response and control. I realized that was the way for me to combine the desire to serve God and help people with the quantitative skills that I had and enjoyed using.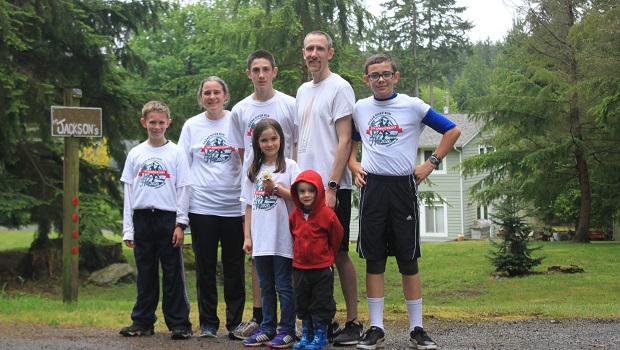 Dr. Michael Jackson and his family getting ready to run the "virtual version" of the annual Camp Gilead 5K in May 2020.
Why is Kaiser Permanente a good place for you?
As a public health grad student at the University of Washington, I did my PhD dissertation at KPWHRI with Dr. Lisa Jackson (no relation). Then, as she had done, I completed the CDC's Epidemic Intelligence Service training program, which I loved. I was interested in doing applied public health work at the state or national level. But I also enjoyed research, and I was delighted to return to KPWHRI as an investigator. Kaiser Permanente is a fantastic place to conduct public health research due to the near-complete medical-encounter data on a large, diverse population.
Those data are what makes it possible for Kaiser Permanente Washington to participate so well in networks that monitor safety after vaccines are licensed—as well as flu vaccine effectiveness. Since 2011 we've been 1 of the 5 U.S. Flu Vaccine Effectiveness Network sites around the country that estimate the rates of disease from various flu strains, study how well that year's flu vaccine is working, and make better models for prediction. Many places struggle to get records on flu vaccination, because people can get vaccinated in so many places. But with Kaiser Permanente vaccination records, we have access to much more complete vaccination data.
What excites you most about your current work?
During this pandemic, it feels good to be able to help. I'm building a COVID-19 transmission model that we can use to look at different interventions that could allow Washington state to reopen more of the economy while still trying to keep disease burden to a manageable level. And I'm gathering data to create a registry on all the Kaiser Permanente Washington patients who have been diagnosed with COVID-19, to coordinate research projects using them.
With Seattle Flu Study colleagues, I published a paper with implications for the current pandemic. It was based on Seattle's "Snowpocalypse" experience last year: The unusually intense snowfall caused people to stay home—closing schools, businesses, and travel—in a manner similar to social distancing during a pandemic. We showed what happened to the course of various respiratory viruses as a result of that social distancing: helping to "flatten the curve" for the strains just before their peaks.
We're trying to get a better picture of what's happening with the pandemic over the coming months, including the range of symptoms and severity in various age groups. We're asking Kaiser Permanente Washington patients who have been clinically tested for the COVID-19 virus to let us use their residual lab specimens for a study of SARS-CoV-2 and other viruses. Funded by the CDC, this Residual Respiratory Swab study gives us a chance to look at the overall incidence of respiratory viruses including COVID-19 and flu over the next couple of months in our population. Eventually that information will feed into the Seattle Flu study.
What keeps you going outside of work?
My wife and 5 children—ages 3 to 15—live on a couple of acres outside Seattle. We like working together as a family on our garden and orchard. My wife and I are active in our church's youth program. We like to hike. I enjoy playing piano and guitar—and I'm learning to play the mandolin.